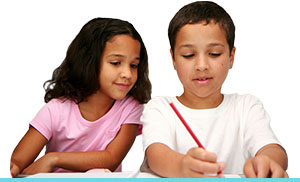 Early Learning and Education
Children are born ready to learn. The good news is, children don't need a lot of fancy toys or expensive DVD's to help them learn. They can learn from you! Children learn by interacting with others and with their environments. Every day activities like getting dressed, going for a walk, playing, listening to a story – these are learning moments.
What Parents Can Do
Babies (0-1 year) need responsive and affectionate care. This helps them build trust and feel safe. Feeling safe helps babies explore and learn about their environment. You can talk and sing to your baby while diapering, feeding or rocking him. You can give him things to touch, taste, smell, hear and see.
Young toddlers (1– 3 years) are beginning to explore the world on their own and act independently. You can dance, play, and read books, and have conversations with your child. You can help her learn eating and dressing skills.
Preschoolers (3 – 5 years) like to observe and imitate. You and your child can count objects, play matching games, color, paint and do dramatic play. You can tell stories. You can offer choices – would you like macaroni and cheese for lunch or a peanut butter and jelly sandwich?
Kindergaten is an exciting time for children and families. It is also normal for both kids and parents to feel nervous. Children may have lots of questions about their teacher or about making friends at school. Parents may worry about who will make sure their child eats lunch or how the teacher will support their child. Check out this brochure for information, tips, and resources.
More Ideas
Support your child's learning by reading, playing and talking to your child!  For more ideas, read Tips for Families

 Learn about Developmental Milestones. Milestones help you understand what to expect for your child and when to be concerned. Click here for Developmental Milestones.

 Join fun activities in the community. Activities such as library story times and playgroups help children practice skills and have fun. Click here for fun activities listed in our Alameda Kids Resource Directory.