Quality Counts
What is Quality Counts?
Quality Counts rates, supports and rewards early care and education programs in Alameda County that serve children with high needs. Quality Counts also helps early care and education providers improve their programs so that children are prepared for kindergarten and succeed in school and life. We work side-by-side with educators who are committed to quality and want to use best practices in early care and education. Quality Counts shares quality ratings with families so they can make informed choices.
Why is Quality Important?
We know that quality early care and education programs support early learning. Long-term studies show that children in quality early care and education programs:
Have better social skills and better self-regulation;
Have better math and reading skills;
Are more likely to complete high school and go on to college.
Most of a child's brain development happens in their first five years, so it's important that young children have the best possible environment for learning and development.
Our Accomplishments:
With over 256 participating programs serving over 11,000 children, because of our work more children have access to quality early learning. Quality Counts has supported teachers and informal care givers alike, providing professional development opportunities, coaching and $1.4 million dollars in awards distributed directly to child care providers. We're just getting started!
Providers
Quality Counts offers incentives, professional development, coaching and rating to providers to support their quality improvement efforts.
Learn More
---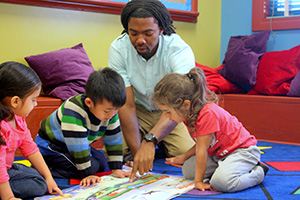 Parents
The early years are the foundation for your child's success in school and life, so it's important that your childcare offer the best environment for your child's development.
Learn More