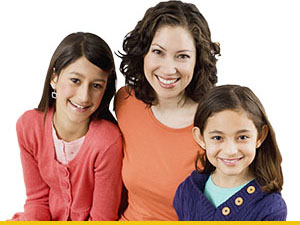 Parenting Websites and Extras
Here are some of our favorite free print, mobile and online resources for families.  All of these resources offer credible and trust-worthy information.  So look no further – your questions are answered here!
WEBSITES
ACHealthcare.org is sponsored by the Alameda County Health Care Services Agency.  It offers information on health care and health insurance.  You can search the directory to find local providers (pediatricians, dentists, OBGYNs) and meet your health needs (pre-natal, pediatric, mental health, flu shots).  You can also learn about how to sign up for health insurance including Medi-Cal.
BabyCenter is sponsored by the Johnson & Johnson company.  Because it is a commercial website, it features advertisements.  It offers information from medical experts and real moms.  It also features free newsletters and apps to track your pregnancy and your child's growth. 
ChildMind.org is sponsored by the Child Mind Institute.  It offers mental health information for children.  Much of the information on the website is for children ages 4 and older, but you can still find information for younger children.  The website offers a mental health guide, symptom checker, and information.
Family Paths Father Page is a website dedicated for fathers and male caregivers who are raising and caring for children. This site features classes and workshops, parenting tips, videos, and resources that fathers can utilize. It also offers a section on fatherhood blogs/podcasts that you can tune into to learn more. Most of the information on the site is specific for fathers and male caregivers, but all are welcome. Family Paths is a proud partner of the Alameda County Fathers Corps. 
First 5 California has a website just for families.  The site offers fun activities and credible information onchildren's health, nutrition and development.  You can find videos, interactive information and free downloads. 
HealthyChildren.org is sponsored by the American Academy of Pediatricians. It offers credible health and development information for children birth to 18 years.  The site features a health symptom checker to help you decide if you need to go to the doctor.  There is also information on current health events (such as outbreaks) and seasonal information.
KidsHealth is sponsored by The Nemours Foundation, an organization dedicated to improving the health of children.  The site offers information and advice on physical health and emotional health.  Information is clear and easy to understand and written by pediatricians and other medical experts.  You can also sign up for a free weekly newsletter.
Sesame Street in Communities is a website that has hundreds of bilingual multi-media tools to help children and families enrich and expand their knowledge during the early years of birth through six, a critical window for brain development. The resources engage kids and adults in everyday moments and daily routines—from teaching early math and literacy concepts to serious topics in difficult times and tough talks with children.
Learn the Signs, Act Early is an effort funded by the U.S. Government, through the Centers for Disease Control and Prevention (CDC).  The website offers extensive information on child development.  You can find information on developmental milestones, when to be concerned, and specific conditions (Autism Spectrum Disorders, ADHD, Hearing Loss, etc.)
FREE MOBILE SERVICES & APPS
Developmental Milestone Tracker.  Milestones matter! Track your child's milestones from age 2 months to 5 years with CDC's easy-to-use illustrated checklists; get tips from CDC for encouraging your child's development; and find out what to do if you are ever concerned about how your child is developing.
From birth to age 5, your child should reach milestones in how he or she plays, learns, speaks, acts, and moves. Photos and videos in this app illustrate each milestone and make tracking them for your child easy and fun!
Text4Baby is a free texting service that offers reminders and tips during your pregnancy and baby's first year.  You will receive information on prenatal health, baby health and development, and parenting. It's easy & free! To enroll in Text4Baby, text the word BABY (or BEBE for Spanish) to 511411
Let's Play! is a free parenting app from Zero To Three, a trusted resource for early childhood development.  The app features fun and easy activities that you can do to support your child's learning and development.  It's free to download at the iTunes and Google Play Store, just search "Let's Play!"
Togetherhood Togetherhood is a new online community aimed at connecting parents, practitioners, and educators, committed to nurturing quirky kids. The term "quirky" as it's used here refers to kids who seem like regular kids on the outside, but who struggle with neurological, behavioral, or learning challenges. Invisible conditions such as Anxiety, Sensory Integration, Attention and learning challenges, and certain Spectrum disorders (that can make simple things feel difficult) are examples of what will be addressed in articles and connections to professionals and parents. 
EXTRAS
Family Separation and Family Preparedness Plan. Family Separation and Family Preparedness Plan is sponsored by Informed Immigrant. The site offers tips on making a family preparedness plan in the event of an encounter with immigration enforcement. You can also find information on establishing guardianship, protecting your financial assets and locating a detained friend or family member. Tips can be access at: https://informedimmigrant.com/guides/steps-take-prepare-family
Safe Escape. Preparing for an emergency or disaster can be an overwhelming and difficult task. Preparing in advance can help you be ready.  These tips from UCSF Benioff Children's Hospital Oakland  Kohl's Injury Prevention Program can help with emergency preparation for children, including kids with special needs.
A disaster plan should include information such as:
Where to go should a disaster occur

The best evacuation route out of your neighborhood and to local shelters

The name and phone number of an out-of-state contact person

What to do with family pets
For more tips, read "Preparing for Emergencies and Disasters" by UCSF Benioff Children's Hospital Oakland - Kohl's Injury Prevention Program
It is recommended to set aside a three-day supply of food and water, as well as first aid supplies, clothing and bedding, tools, and other emergency supplies.  Think of what other necessities are essential for your family. Do you have an adequate supply of medication and a safe place to store it? How will you keep medical supplies sanitary? How will you maintain electrical backup for medical equipment?
For information on what to include in your family's Emergency Evacuation Kit, read "Emergency Evacuation Kit for Children with Special Needs" and "Family Emergency and Disaster Preparedness Kit" by UCSF Benioff Children's Hospital Oakland - Kohl's Injury Prevention Program
Successful Co-Parenting After Divorce Toolkit. This toolkit teaches families and professionals about the effects of divorce and helps them build and support healthy co-parenting relationships for the benefit of the children involved. The toolkit is available online for free to the public. The Successful Co-Parenting After Divorce Toolkit can be accessed at: https://coparenting.fsu.edu, or in Spanish at https://spanish.coparenting.fsu.edu.